We had a great day today. Thanks God for this very wonderful day! We spent three hours walking since the weather is not so cold anymore. Yesterday, we went to the garden center to buy some flowers. I also planted more flowers from the ones I bought the other week.
The Cambria orchid was also taken at the garden center. This is the first time that I saw this kind of color of a Cambria orchid. I love it! Enjoy the rest of your weekend guys!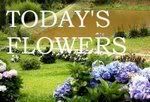 Click the logos, feel free to join and see more images from all over the world. Special appreciation to the Authors of these sites for hosting these wonderful memes. Happy weekend!