My PC is processing so slow again. That is the reason why I left it for an hour an watched TV. We had a bit crazy weather today. We should drive to the nearby city to go sightseeing and walking but the weather was not friendly. It rained and the sun shines again..rain sunshine..rain sunshine..until we decided to stay at home.
Here is my beautiful bouquet of flowers for this week's Easter celebration. I hope you had a great one folks!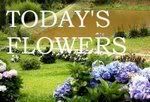 Click the logos above, feel free to join these wonderful memes. Special appreciation to Luiz and Drowsey Monkey for hosting these memes. Have a great day to all!