Happy Sunday! Weekend is almost ending! We might probably go walking later. I thought spring is almost coming but yesterday we had a lot of snow again. I am quite happy because the sun is shining right now which is perfect for walking.
For today's TF entry, I have here some Bromeliads. Many people might had already seen these plants but they still don't recognize or know its name. Bromeliads belong to the family of pineapple, also known as BROMELIACEAE which is also called in German Ananas. I guess you have an idea now about these plants. I grew thousands of these before in our garden in the Philippines for selling.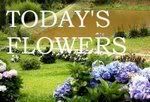 Click the logo, feel free to join and see the beauty of flowers from all over the world. Special appreciation to Luiz and the TF team for this very wonderful meme. Happy TF day!