I am quite excited for the spring time. The snow outside is slowly melting. We have a little sunshine today. I hope that winter and snow is not coming back anymore. I don't need because now I am still not accustom to the cold weather after coming back from my Philippine vacation. Here is my TF and MYM entry, a beautiful tulip flower! I can't wait to my tulips growing again this spring time.

Click the logo to visit the blog. Feel free to join this wonderful meme especially if you love yellow. Thanks to the Author Drowsey Monkey for hosting this beautiful meme. Happy Mellow Yellow Monday!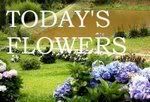 Click the logo, feel free to join and see the beauty of flowers from all over the world. Special appreciation to Luiz and the TF team for this very wonderful meme. Happy TF day!