It's nature time! It's flower time and it's time to share the beauty of flowers to the world. I am grateful for all people who see and appreciate the beauty of nature through flowers. You are all great guys! I am also honoured to be the guest friend for Today's Flower. This meme is my favorite of all because I love flowers so much that dear HB calls me crazy sometimes everytime we visit a garden full of flowers. I am also growing a lot of plants and flowers back home because of our beautiful weather all the time. Here in Europe, we also have a little garden where I enjoy taking care of the different plants and flowers in it. Sad to say, during winter time, they fade and some come back in the next spring time. I would like to congratulate the Author of this beautiful meme
LUIZ SANTILLI JR.
and his Team
DENISE, GULLICKSON, LAERTE PUPO and VALKYRIEN
for well job done. Keep it up guys.
Starting next week, I will be away for a long vacation to my home country. It will be around a 3 months vacation. I am quite excited to see the beach, sunny weather and the blue sky and of course my beloved family and friends. I guess I am evading the winter in Europe. ..wink! I will try my best to participate in this meme every week when time permits. Sorry guys, I cannot visit you from time to time but I will try my best.
Here are the beauty of nature for showing around the world. I personally took these pictures during our visit to a garden center last month. I grow these flowers before back in my home country except the Poinsettia or the Christmas Star. I guess this is quite a long post for you. Take care everyone and wishing you all a great and wonderful Holiday season in advance!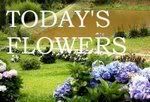 Click the logo, feel free to join and see the beauty of flowers from all over the world. Special appreciation to

Luiz

and the TF team for this very wonderful meme. Happy TF day!

a beautiful Bromeliad! I was crazy about these flowers some years ago that I grew thousands of it in my garden. Feel free to browse my Today's flower category here to view a photo of me in my previous garden.
Another evidence is an old photo below in my garden back home. Oh how I miss those thousands of Bromeliads back home. I just scanned this picture these week and have it developed again. This was taken in the year 2000.