Good day to all! I believed most ladies and women out there would love to be given a bouquet of sweet and lovely roses like what I have in the picture below. Am I right girls? I took this photo last month while shopping for groceries. I am quite late for posting about this but it is better late than nothing at all. Have a lovely day to all!

Click the logo to visit the blog. Feel free to join this wonderful meme especially if you love yellow. Thanks to the Author Drowsey Monkey for hosting this beautiful meme. Happy Mellow Yellow Monday!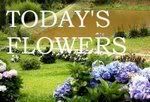 Click the logo, feel free to join and see the beauty of flowers from all over the world. Special appreciation to Luiz and the TF team for this very wonderful meme. Happy TF day!