Good afternoon everyone? I hope everything is doing good to all and you are enjoying the rest of the weekend. Have you seen cactus flowers before? I hope so. I had already seen some. In fact in my garden before I have some cactus that bear flowers. I also bought some cactus last January 2009 and some bloomed flowers. I just can't find the picture at this moment. I know some people who have not seen cactus flowers yet and my friend is one of them. I humbly share these cactus flowers for my Today's Flowers entry. Amazing how thee beauty of nature truly exist. Enjoy the rest of your weekend. Take care folks!
I took this photo as we visited a garden center last month. I love this cactus! I got some inside the house too.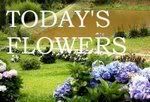 Click the logo, feel free to join and see the beauty of flowers from all over the world. Special appreciation to Luiz and the TF team for this very wonderful meme. Happy TF day!